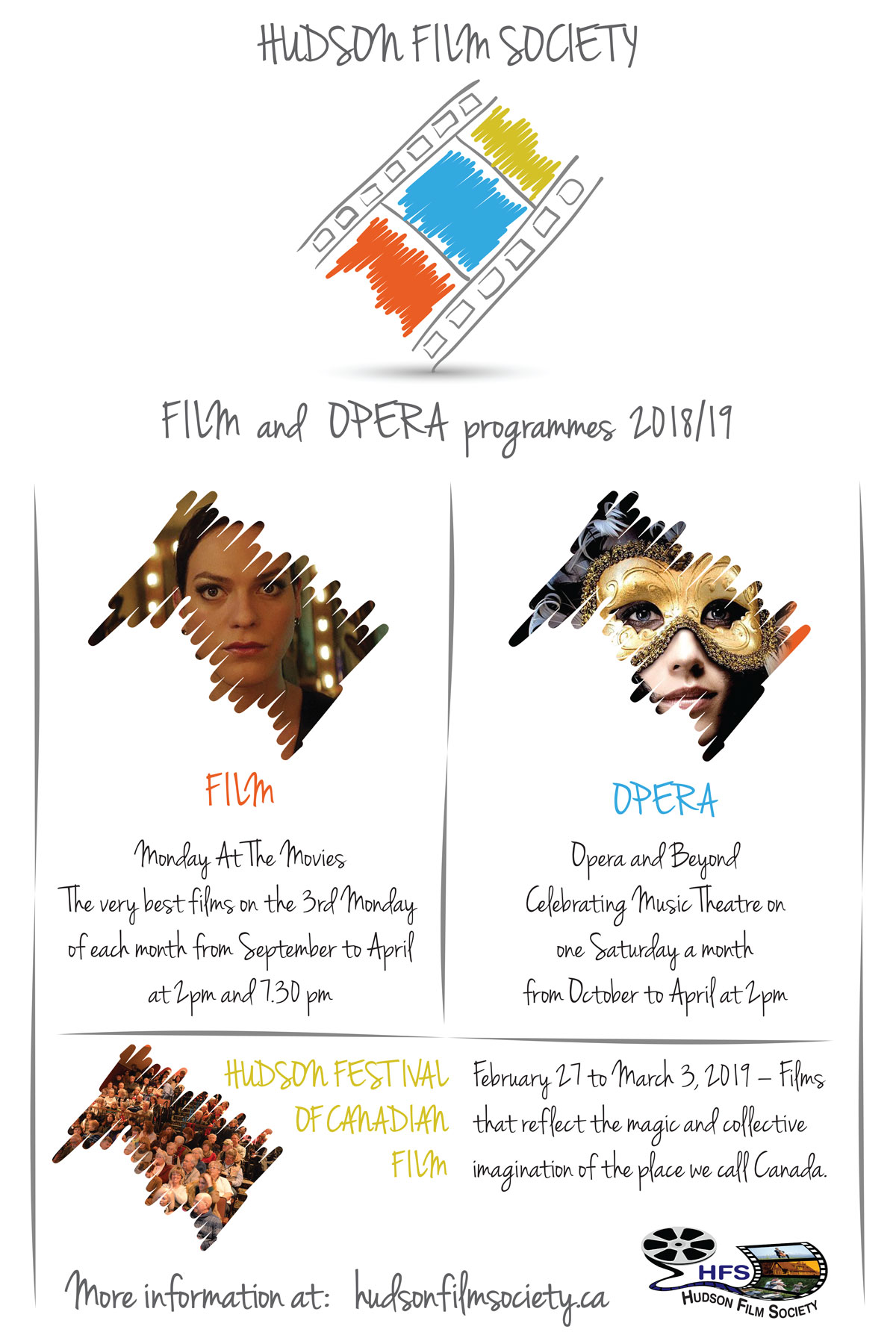 The Hudson Film Society, beginning its 13th season on September 17, 2017, is affiliated with the Toronto International Film Festival through its outreach organization, The Film Circuit. Founded in 1989, Film Circuit is TIFF's successful film program, bringing the best of Canadian and International films and artists to communities across the country.

Screenings – 2.00 pm and 7.30 pm are held at the Hudson Village Theatre, 28 Wharf Road, on the 3rd Monday of the month from September to April.
The Society also programs, an opera series – Opera and Beyond and a 5 day Hudson Film Festival in the first weekend of March (February 27, 28, March 1, 2 & 3 in 2019).
The series are by membership but single tickets – when available – at $12.00 for Film and $15.00 for Opera are sold at the Theatre, 10 minutes prior to 2:00 pm and 7:30 pm on the day of a screening. For the Festival, passes and tickets will be available a month or more prior to the opening date.
For a list of the great and or interesting films we have shown since we started (and some that didn't make it), please go to 'Past Films'.
Founders: Inga Lawson, John Lawson, Clint Ward, Helen Henshaw, Elaine Steinberg

Committee members are looking forward to another sold out "Monday at the Movies".
President: Clint Ward
Treasurer: Betsy Aird 
Secretary: Peter Mundie
Membership List and FaceBook: David Glazier
Members at Large: Helen Kurgansky, Michael Whalen, Marlene Donnegan, Mike Reid, Karen Burgan
Opera Committee: Patricia Kelly (Membership), David Langlois (Program/Introductions), Anne Drake, Mark Drake, Cam Gentile, David Glazier, George Holme
Festival Committee: Karen Bradley, Susan Corbett, Cam Gentile, Peter Mundie, Marlene Donegan, Karen Burgan and Vivianne LaRiviere

To join, print the Film Society Membership Form and/or the Opera Series Application Form, fill in the necessary information and mail it with a cheque made out to: Hudson Film Society
(a reduced price, Snowbird membership for those on vacations could be available)
The mailing address is:
Hudson Film Society, P.O. Box 1146,
Hudson , QC, J0P1HO
If you have questions, go to the "contact us" page